Application of the Combinations ( Carrageenan & Gum Arabic) in Low-Temperature Hams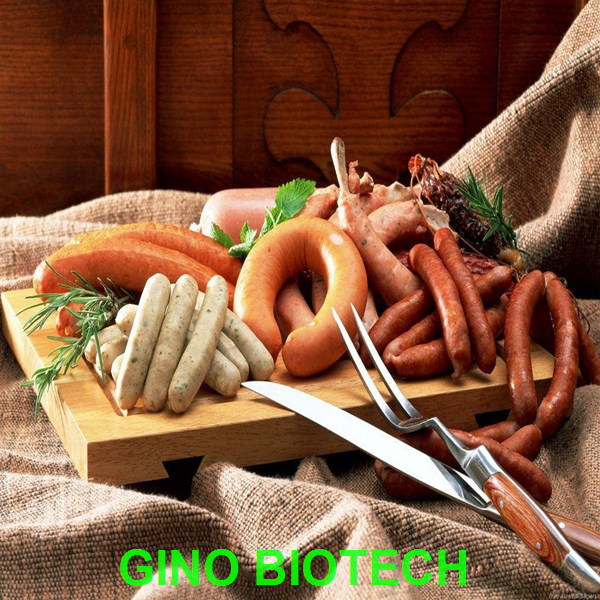 Food texture, also known as the texture of food, is another important property of food in terms of color, fragrance, and taste. It is a difficult factor to control in food processing, but it is one of the most important key indicators for determining the grades.
Especially for the ham products in meat products, which have higher and higher requirements on the texture of the products.
There are many factors affecting the texture of ham products: 
From the raw materials, such as starch, soy flour, protein powder, colloid, to the processing, such as rolling, drying and cooking. 
Therefore, a variety of factors could affect the texture of the products. 
Carrageenan, is a type of seaweed polysaccharide extracted from Eucheuma and Carrageen. The relative molecular weight of the commercial carrageenan is above 100,000 Daltons.
At present, there are three kinds of k-carrageenan, I-carrageenan and λ-carrageenan which have been put into commercial production.
K-carrageenan forms a reversible, hard and brittle gel in water.
I-carrageenan forms a thermoreversible, soft and elastic gel.
λ-carrageenan does not form a gel, but has thickening effect.
Currently, k-carrageenan is mainly used in meat products. 
Gum arabic is separated from the secretion of the Arab tree, it's a weakly acidic, water-soluble macromolecular polysaccharide substance containing various cations such as calcium, magnesium and potassium.
The relative molecular mass of the commercial gum arabic is 50 to 1 million, and the gum arabic macromolecule has the dual functions of thickening and emulsifying. 
Combinations of carrageenan and gum arabic 
Not only the elasticity, hardness, but also the chewiness, could achieve the best results when Carrageenan: Gum arabic = 3:2. 
Suggested use level is 0.5%, It's an ideal ratio to make ham products.
After adding the combinations, the slice ability, flavor and taste have been obviously improved. 
It's tender and brittle, and there is no powdery feeling, and the dryness and unshaped will never happen. 
Application of the Combinations of carrageenan & gum arabic in low-temperature hams
K-carrageenan is dissolved in hot water to form a viscous transparent or milky white flowable solution. The aqueous solution can form a reversible strong and hard gel, which not only has water retention but also can significantly improve the slicing ability of meat products and increase the elasticity of products.
Carrageenan reacts with the polar part of the protein, and combines the water-soluble protein, salt-soluble protein and added protein in the meat into the gel system formed by carrageenan to form a powerful three-dimensional structure-gel. It can maintain a large amount of moisture and has good elasticity and toughness. Therefore, the addition of ham products can significantly increase the elasticity and brittleness and reduce the powdery feeling.
As one of the most widely used water-soluble gums, Gum Arabic is compatible with most natural gums and starches.
It is compatible with most other water-soluble gums, proteins, sugars and starches. It can be miscible with alkaloids.
Gum arabic is a negatively charged polysaccharide. Due to its many branches, the same relative molecular weight occupies less space in space, which determines that the viscosity of gum arabic is lower than other linear macromolecules of the same relative molecular mass level.
Acacia gum has a high degree of solubility in water and a low solution viscosity, and is highly soluble in hot and cold water. It is still liquid when formulated as a 50% aqueous solution. The gum arabic structure has a part of protein material and the structure of rhamnose, which makes the gum arabic have very good hydrophilic and lipophilic properties.
It is a high quality natural oil-in-water emulsion stabilizer.
Acacia gum has good emulsifying properties, is particularly suitable for oil-in-water emulsion systems, has good film-forming properties, can prolong flavor quality and prevent oxidation. Therefore, the addition of ham products significantly improves the slicing ability, increases the tenderness, and changes the taste and hardness.

We are a biotech company specialized in the research, development and commercialization of innovative and technological food additives hydrocolloids Agar Agar, Carrageenan and Tailor-Made Stabilizer Solutions.
With the extended know-how and experience in the research, application, and use of Hydrocolloids, we could provide one-stop-shop customized solutions perfectly matched to the needs of our customers.
Our products cover the needs of the Meat, Dairy, Bakery, Confectionery, and other industrial sectors.