Instant Agar ( Fast Soluble Agar)
Best Spreadable Agar Supplier | No. 1 Instant Agar with Good Solubility
Instant agar / spreadable agar is a hydrocolloid extracted from red seaweeds that is widely used in the food industry and in certain scientific and industrial applications. 
As one professional and experienced spreadable agar agar suppliers in China, we have extended know-how and experience in the research, application, and use of agar agar, so we could provide a full range of agar products, and one-stop-shop customized solutions perfectly matched to the needs of our customers.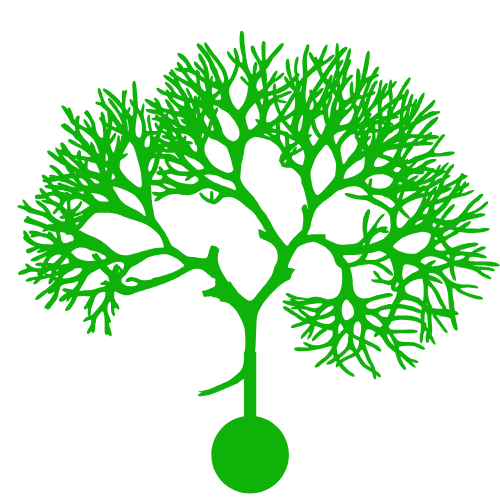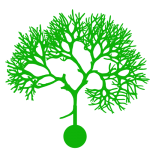 Red Seaweeds
The bulk raw materials of our hydrocolloids products mainly originate from the natural and pollution-free seas of the Philippines, Indonesia, Malaysia and other countries, including quality gracilaria, eucheumaottoni and gelidium. All our raw materials are green and environment-friendly and comply with domestic & national, EU & FDA standards.
Low-temperature Instant Agar (also called Quick/Fast Soluble Agar, Spread Agar or Spreadable Agar) is a natural marine polysaccharide which is extracted and refined by a special process using natural seabed plants (seaweed and sedgefish) as raw materials.
CHEMICAL CHARACTERISTICS
Appearance
Off-white to yellowish powder
Moisture
≤ 12 %
Total Ash
≤ 5 %
Low Temperature Instant Capacity (50-55°C, 5 min)
≥ 95%
Gel Strength
(1.5% at 20°C)

Low: 200-400 g/cm2

Medium: 401-800 g/cm2

High: 801-1200 g/cm2

Ultra-High: ≥ 1200 g/cm2

pH
5-7
Mesh size
80-100
Starch & Dextrin
Not detectable
Gelatin and other proteins
Not detectable
Water insoluble matter
≤ 1%
Heavy metal
≤ 20 ppm
Pb
≤ 3 ppm
As
≤ 2 ppm
Cd
≤ 1 ppm
Hg
≤ 1 ppm
Acid insoluble ash
0.5 % max
MICROBIOLOGICAL TEST
Total plate count
≤ 5000 cfu/g
Yeast & Mold
≤ 300 cfu/g
E.Coli
Absent in 5 g
Salmonella
Absent in 5 g
Differences Between
Agar Agar and Instant Agar
| | | |
| --- | --- | --- |
| Item | Agar Agar | Instant Agar |
| Temperature | ≥ 90 °C | ≥ 55 °C |
| Time | ≥ 10 min | 5-7 min |
| Transparency | General | Better |
| Gel Forming | Slow | Quick |
As the professional and responsible instant/spreadable agar agar powder suppliers in China, Gino Biotech not only provides customized products, but also the flexible packaging solutions.  We will help you boost your business and make you stand out from the competition by offering you the custom packaging. 
Extracted from natural seaweed, high quality dietary fiber ,Green, healthy and safe.
It can be rapidly dissolved at 55-65℃ in 5-7minutes.
It can form a non- drawing gel with syrup and other solids, easy to stir.
The product has high transparency, make the jam brightness,similar to the mirror.
It can be produced according to demand smear, gel, adjustable strength.
Usage:
Add 0.5-1% instant agar powder to water at 90℃and keep stiring, dissolving for 30 minutes, until the powder dissolved absolutely
Adding the mixture to syrup at 90℃ and keep 90℃.
Cool down to 70℃, then add citric acid to adjust the acid.
Add essence and pigment.
Add water then adjust to corresponding weight.
Package, stand the product for 1 day. Add according to the production process.
Dosage: It is recommended to add 0.5-1% of final products.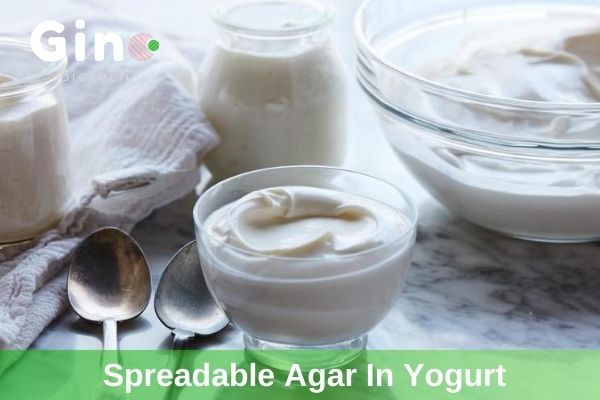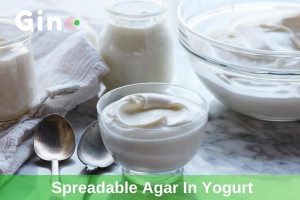 Due to its quick solubility at low temperature, It matches with the process of dairy products by reducing the damage to nutrients by high temperatures. Widely used in yogurts, custard creams.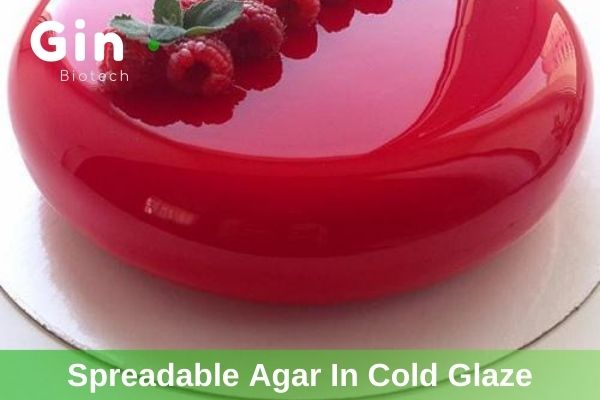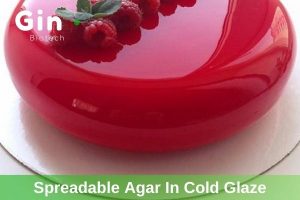 It can effectively improve the gloss and water retention of baked products, has good effects of moisturizing, anti-drying, and rich taste and flavor, while prolonging the shelf life of products. Good for cake glazes and fillings.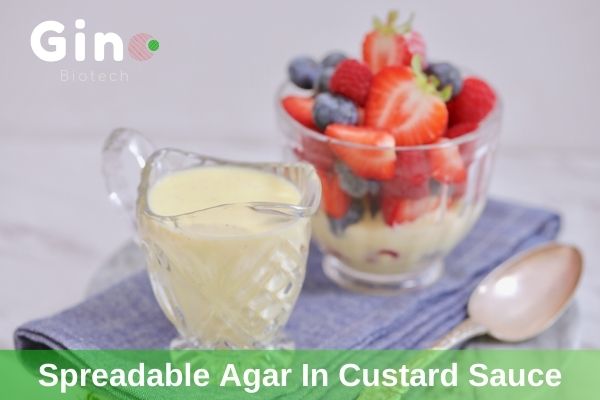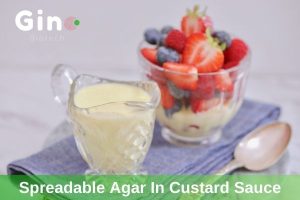 It has better ability to combine moisture and effective in reducing water activity. It can increase the viscosity of jams in jams production.
Gino Biotech will always be your best supplier and a good partner for spreadable agar agar and other hydrocolloids from China.
Found Something Interesting?
EXPLORE YOUR RELIABLE SPREADABLE AGAR AGAR SUPPLIER TODAY!​