Low EEO Agarose Manufacturer in China
Agarose is divided into Normal Agarose and Low EEO Agarose, Low-melting Agarose, and High Gel Strength Agarose after chemical modification.
Low EEO agarose has a very low EEO value and is recommended for analytical and preparative gels with very good resolution for nucleic acid fragments larger than 1000 bp in size (even smaller than 1000 bp at higher concentrations).
As one professional and experienced low EEO agarose supplier in China, Gino could offer a whole range of agarose products:
| | | |
| --- | --- | --- |
| Items | Specifications of Low EEO Agarose | Test results |
| Appearance | Off-white to white powder | Qualified |
| Moisture, w/%          | ≤ 10.0 | 7.2 |
| Gel Strength (1.0%), g/cm2   | - | 1300 |
| EEO | ≤ 0.15 | 0.07 |
| Total Ash, w/%          | ≤ 0.5 | 0.16 |
| Gelling point (1.5%), ℃ | 35 - 37 | 36 |
| Melting point (1.5%), ℃ | 86 - 89 | 88 |
| DNase | Negative | Qualified |
| RNase | Negative | Qualified |
| Protease | Negative | Qualified |
| Inhibitory factor | Negative | Qualified |
Low EEO Agarose Features & Advantages
Agarose Composition:
The chemical structure of agarose is composed of long chains of alternating 1,3-linked β-D-galactose and 1,4-linked 3,6-endoether-L-galactose.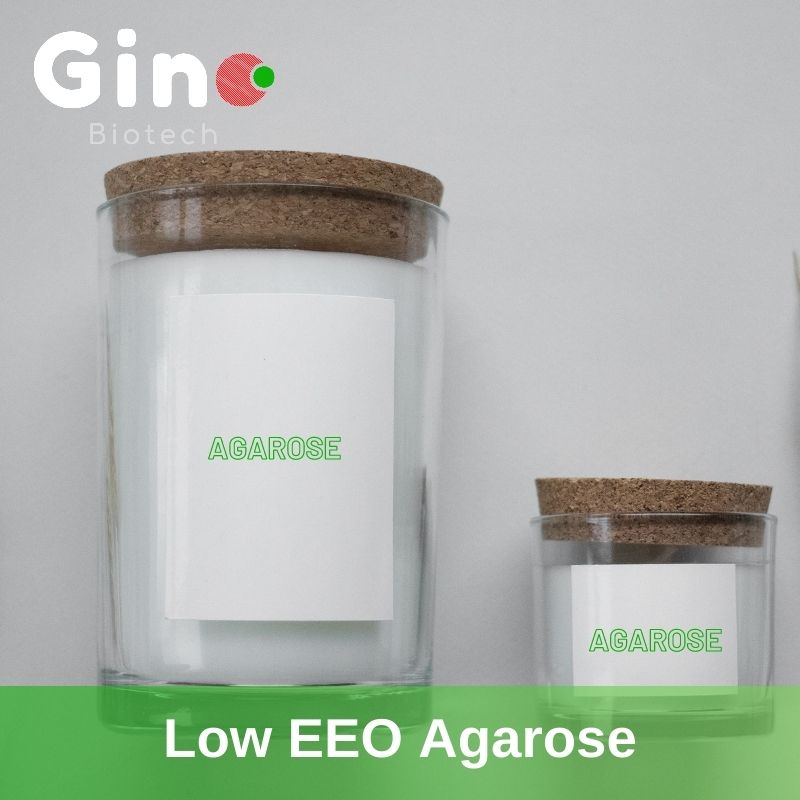 10 kg carton box
100 g/bottle, then 5kg carton box
25 kg drum
Agarose gels are gels prepared with agarose as a supporting medium. Agarose is divided into general agarose and low-melting agarose with a reduced melting point after chemical modification.
The melting point of agarose is between 62 and 65°C, and it can be maintained in a liquid state for several hours at 37°C after melting and solidifies into gel at 30°C.
It is mostly used for in situ digestion of chromosomal DNA and DNA fragment recovery within the gel. Agarose gels are often used for the separation of large molecules of proteins and DNA due to their large pore size.
Agarose is often used in biochemistry laboratories as a semi-solid support in techniques such as electrophoresis and chromatography for the separation and analysis of biological macromolecules or small molecules.
What is agarose used for?
Agarose has a special stabilizing effect because of its special gelling properties, especially significant solidity, hysteresis and hysteresis, and easy absorption of water; it has been widely used in the fields of food, medicine, chemical industry, textile, national defense, etc.
According to incomplete statistics, agar and agarose have more than 1000 kinds of uses, and are internationally known as "novel East Asian products".
Due to its good biocompatibility, it is also widely used for the production of biological separation media.
Difference between Agar and Agarose
1. Different Composition
Agarose is simply a linear polymorph, which is made of alternating galactose connections. Agar, on the other hand, is a polysaccharide extracted from seaweed and is one of the most widely used seaweed gums in the world.
2. Different Uses
Agar: It is widely used in the food industry and is also commonly used as a bacterial culture medium. It is also used in the chemical industry, and medical research, as a culture medium and ointment.
Agarose: Widely used in food, medicine, chemical industry, textile, national defense, and other fields, according to incomplete statistics, agar vs agarose has more than 1000 kinds of uses, and is internationally known as a "novel East Asian product".
As one leading low EEO agarose manufacturer & supplier in China, Gino Biotech will always be your good partner for agarose powder and other hydrocolloids from China.
" To bring the technical and functional hydrocolloids to the food industry. "
" To be the strategic partner and become one of the respected low EEO agarose manufacturers & suppliers in the hydrocolloids world. "