It is mainly obtained from the seaweeds of the red algae, such as the Chondrus ocellatus, Kappahycus alvarezi and Eucheuma cottonii,. The color is generally off white or light-yellow powder, odorless and tasteless. Carrageenan has good water solubility, and can be completely dissolved at 80.C to form a thermally reversible gel, that is, the gel is heated to melt into a solution, and the gel can be formed when the solution is cooled.
In China, Gino Biotech is a supplier of carrageenan which is extracted from red seaweed. We offer a wide range of products from qualified carrageenan producer.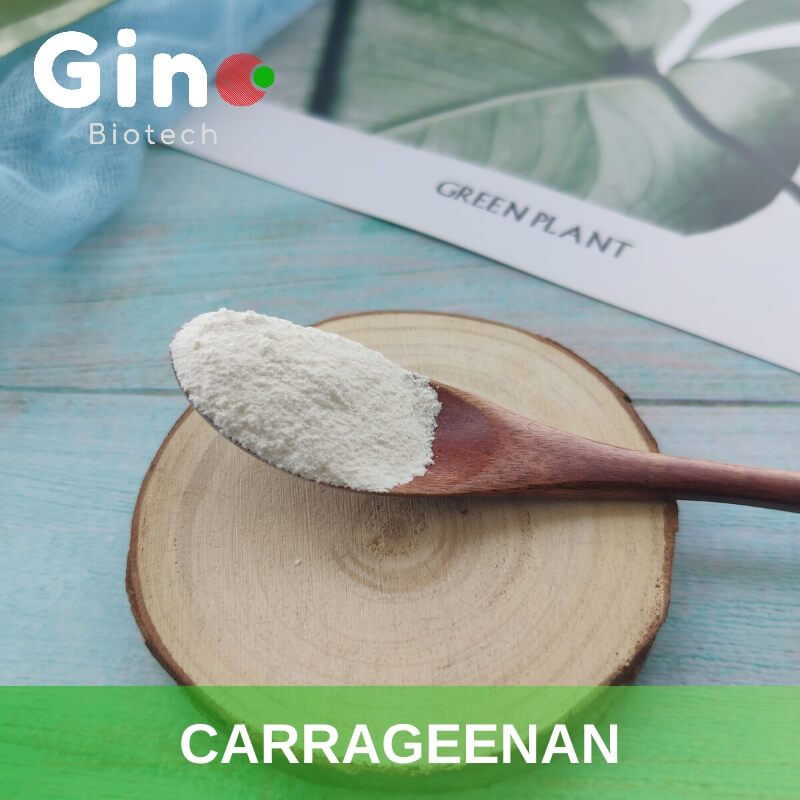 Our Carrageenan Raw Materials
As one responsible carrageenan producer and supplier, our partner and Gino Biotech only selects high-quality seaweed from the natural and non-polluted seas such as the Philippines, Indonesia and Malaysia, and produces high quality products through advanced processing technology and extraction technology. The quality fully meets the requirements of national standards, EU standard and other domestic and foreign standards
Carrageenan Specification
Please click the below button to download the all-in-one carrageenan specification.
Carrageenan has long history as a natural food additive. It is a harmless plant soluble fiber that will not be digested by the human body. It has excellent characteristics and functions such as:
When carrageenan is used together with other food gums (locust bean gum, konjac gum, etc. ) it can have a significant synergistic effect, improve its gel properties, and increase its elasticity and water retention.
As a gelling agent, thickener or suspending agent, carrageenan is widely used in soft candy, jelly, beverages, meat products, dairy products, baking and sauce products. Because its total dietary fiber content is nearly 70%, it is also commonly used in functional foods.
Are You Looking for One Reliable Carrageenan Producer?
EXPLORE YOUR RELIABLE CARRAGEENAN PRODUCER TODAY!​