Carrageenan is one natural plant-based & 100% vegan food hydrocolloid that is widely used in food. Choose us, choose your premium carrageenan factory in China.
Carrageenan has many physicochemical properties such as hydrocolloid formation, gelation, thickening, emulsification, film formation, stabilization, and dispersion, so it can be used as a gelling agent, emulsifier, thickening agent, or suspending agent to stabilize emulsions, control dehydration, and shrinkage, stabilize structure and form gels.
In addition, the safety and non-toxic properties of carrageenan have been confirmed by the Joint Expert Committee on Food Additives (JECFA) of the Food and Agriculture Organization of the United Nations and the World Health Organization, which has led to the rapid development of the carrageenan industry.
Carrageenan is widely used in the food industry, daily chemical industry, and biochemical and medical research. In the last decade or so, the demand for carrageenan in domestic and international markets has increased significantly due to the maturity of application technology and the increasing number of applications and carrageenan factory, and carrageenan has become one of the most widely used colloids in food.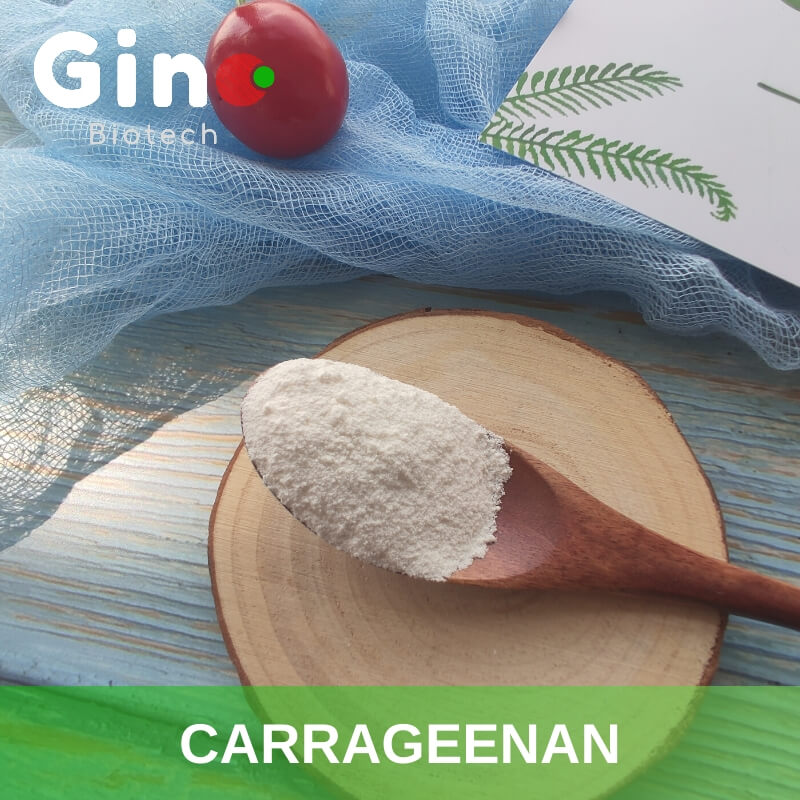 In China, the main raw material for carrageenan production is Eucheuma cottonii, and the general process used in most carrageenan factories is as follows:
Raw material → alkali treatment → washing to neutral → gum extraction → filtration → cooling → cutting → freezing and dehydration → thawing → drying → finished product
Carrageenan Gel Properties
| | | | |
| --- | --- | --- | --- |
| Category | Kappa Carrageenan | Iota Carrageenan | Lambda Carrageenan |
| Effect of cations | Strong gel formation with potassium ions | Strong gel with calcium ions | No gel |
| Gel types | Strong and brittle, syneresis | Elastic and cohesive, does not syneresis | No gel |
| Synergistic effect with locust bean gum | Strong | Strong | No |
| Stability of freezing/thawing | None | Stability | None |
The annual value of global carrageenan is about USD 800 million (2020), and the application of carrageenan in the food industry is the most important and largest, mainly because it is cheaper than agar and other food additives and can replace them, and Kappa carrageenan has strong coagulation, iota carrageenan is elastic, and lambda carrageenan is not gelatinous but very vicious.
As a food additive, carrageenan can give food good water retention, effective thickening, and stability, and can also enhance the flavor and appearance of food.
Carrageenan has been used as a natural food additive for many years. It is a harmless and indigestible plant fiber and has a wide range of uses. The commercial production of carrageenan abroad started in the 1920s.
In China, commercial carrageenan has been produced since 1985, of which 80% is used in food and food-related industries.
Carrageenan is mainly used as a gelling, thickening, stabilizing and water-holding agent in the food industry.
It is used as a thickening and stabilizing agent in pudding, yogurt, cream, ice cream and cheese;
It is used as a water-holding agent in the production of red sausage and ham;
It is used as a suspending agent in dairy beverages and as a gelling agent in jelly.
Carrageenan Executive Standard
GB 1886.169-2016
E407
E407A
Are You Looking for the Reliable Carrageenan Factory?
You might also be interested in these products
EXPLORE YOUR RELIABLE CARRAGEENAN FACTORY TODAY!