Carrageenan is one green gelling & thickening agent that is widely used in the food & non-food industry. Choose us, choose the top carrageenan company in China.
Gino Biotech is a biotech company specialized in the research, development, and commercialization of innovative and technological food additives hydrocolloids - AGAR AGAR, CARRAGEENAN, and Tailor-Made Stabilizer Solutions.
We have extended know-how and experience in the research, application, and use of Hydrocolloids, so we could provide one-stop-shop customized solutions perfectly matched to the needs of our customers.
Our products cover the needs of the Meat, Dairy, Bakery, Confectionery, and other industrial sectors.
Carrageenan is one of the natural carbohydrates (polysaccharides), which is derived from edible red seaweeds.
Carrageenan is used as a gelling agent, thickener and stabilizer in various commercial applications, especially in foods and sauces. In addition to these functions, carrageenan is used in laboratory medicine, medical formulations, cosmetics, and industrial applications.
The product is obtained from Eucheuma cottonii, a class of Red Seaweed. It is a food-grade carrageenan that acts as a natural thickener, binder, and stabilizer.
It is highly sensitive to potassium ions which enhances its gelling properties. It is stable in neutral or alkali medium and insoluble in organic solvents.
Gino Biotech was founded in 2010 as a company supplying carrageenan and agar-agar products.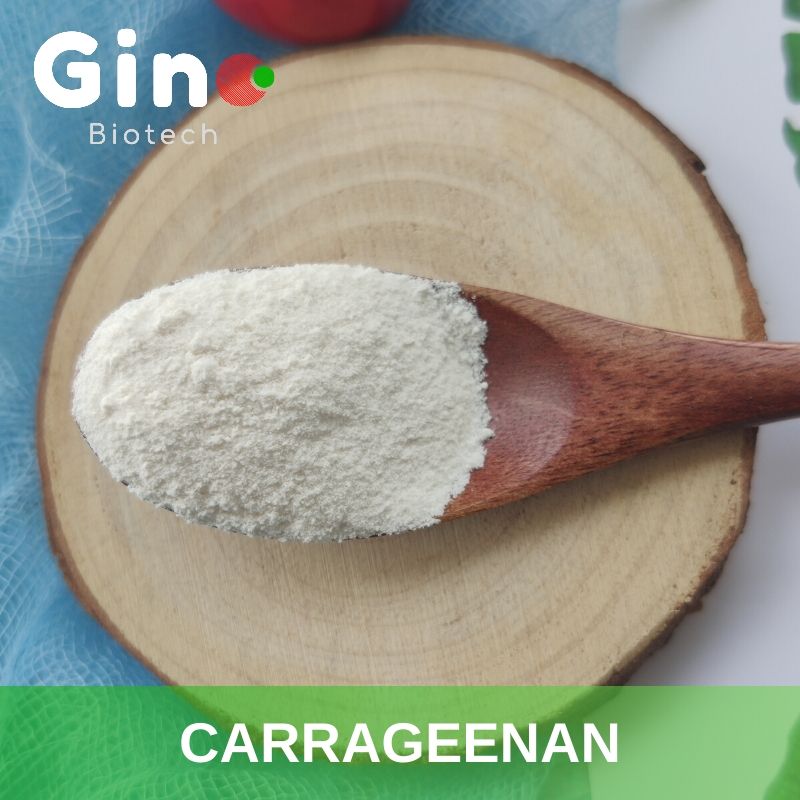 Raw material seaweeds → Alkali treatment → Washing to neutral → Gum extraction → Filtration → Cooling → Cutting → Freezing and dehydration → Thawing → Drying → Finished products
Carrageenan Specification
Item

Specifications

Appearance

White to yellowish powder or granule

Moisture (105℃,4 h)

≤ 12 %

Total ash (550℃,4 h)

15-40 %

Particle size

95 % Crossed 120 mesh

Potassium Gel Strength

1.5 %(w/w)at 20℃ 10 h

≥ 500 g/cm2

Viscosity (1.5 %,75 ℃)

≥ 20 mPa·s

pH (1 % w/w, 60 ℃)

8-11

Sulfate ( SO42-)

15-40 %

Acid Insoluble Ash

≤ 1 %

As

≤ 2 mg/kg

Pb

≤ 2 mg/kg

Cd

≤ 2 mg/kg

Hg

≤ 1 mg/kg

Total Plate Count

≤ 5000 cfu/g

Yeast and Moulds

≤ 300 cfu/g

E.coli

Negative in 5 g

Salmonella

Negative in 10 g
Carrageenan Type

Kappa

Iota

Solubility

Hot (80 C) water

Soluble

Soluble

Cold (20 C) water

Sodium salt soluble

Sodium salt soluble

Hot (80 C) milk

Soluble

Soluble

Cold (20 C) milk

Insoluble

Insoluble

Cold milk

(TSPP added)

Thickens or gels

Thickens or gels

50% sugar solutions

Soluble hot

Insoluble

10% salt solutions

Insoluble

Soluble hot

Gelation

Effect of cations

 

Strongest gels

With potassium

Strongest gels

With calcium

Gel texture

Firm, brittle

Soft, elastic

Syneresis

Yes

No

Hysteresis

10-20 C

5-10 C

Freeze-thaw stability

No

Yes

Synergy with locust

Bean gum

Yes

No

Synergy with konjac gum

Yes

No

Synergy with starch

No

Yes

Shear reversibility

No

Yes

Acid stability

Hydrolysis in solution, accelerated by heat;

gels are stable

Hydrolysis in solution, accelerated by heat;

gels are stable

Protein reactivity

Specific reaction

with kappa-casein

Strong protein interaction in acid
Carrageenan is mainly used as a gelling, thickening, stabilizing and water-holding agent in the food industry.
It is used as a thickening and stabilizing agent in pudding, yogurt, cream, ice cream and cheese;
It is used as water-holding agent in the production of red sausage and ham;
It is used as a suspending agent in dairy beverages and as a gelling agent in jelly.
Carrageenan Executive Standard
GB 1886.169-2016
E407
E407A
Are You Looking for the Reliable Carrageenan Company?
You might also be interested in these products
EXPLORE YOUR RELIABLE CARRAGEENAN COMPANY TODAY!