As one global carrageenan supplier in China, Gino Biotech could provide both semi-refined and refined carrageenan bulk with a stable supply. Get a quick quote!
Carrageenan, a type of natural polysaccharide hydrocolloid, is found in certain red seaweed varieties. These carbohydrates can form thick solutions or gels in aqueous media at low concentrations.
Carrageenan comes in the form of a small, white, or yellowish powder that is odorless and tastes good. It is heat-reversible. The solution can be dissolved after heating up, and it can gel while cooling. The gel is stable and will not decrease in strength or viscosity over time. Carrageenan, when used with konjac and locust bean gum and xanthan can be used to alter gel properties and make gel elastic.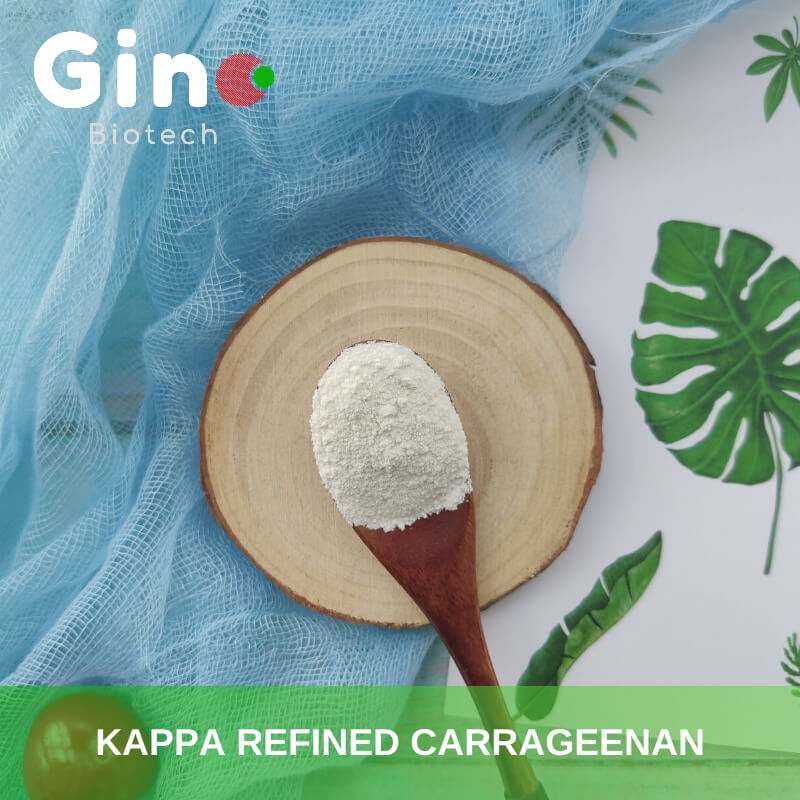 Carrageenan We can Provide
Our current range of pure carrageenan bulk products includes Kappa & Iota Refined and Kappa & Iota Semi-refined.
Buy Carrageenan Bulk
Raw Material (Seaweeds) Acceptance → Alkali Treatment → Washing & Soaking → Boiling → Filtering → Pushing Strips → Freezing → Dehydrating → Granulating → Drying → Crushing → Sieving → Blending → Packaging → Metal Detecting → Finished Product
Carrageenan Specification
Item

Specifications

Appearance

White to yellowish powder or granule

Moisture (105℃,4 h)

≤ 12 %

Total ash (550℃,4 h)

15-40 %

Particle size

95 % Crossed 120 mesh

Potassium Gel Strength

1.5 %(w/w)at 20℃ 10 h

≥ 500 g/cm2

Viscosity (1.5 %,75 ℃)

≥ 20 mPa·s

pH (1 % w/w, 60 ℃)

8-11

Sulfate ( SO42-)

15-40 %

Acid Insoluble Ash

≤ 1 %

As

≤ 2 mg/kg

Pb

≤ 2 mg/kg

Cd

≤ 2 mg/kg

Hg

≤ 1 mg/kg

Total Plate Count

≤ 5000 cfu/g

Yeast and Moulds

≤ 300 cfu/g

E.coli

Negative in 5 g

Salmonella

Negative in 10 g
Carrageenan Properties of Kappa & Iota
Carrageenan Type

Kappa

Iota

Solubility

Hot (80 C) water

Soluble

Soluble

Cold (20 C) water

Sodium salt soluble

Sodium salt soluble

Hot (80 C) milk

Soluble

Soluble

Cold (20 C) milk

Insoluble

Insoluble

Cold milk

(TSPP added)

Thickens or gels

Thickens or gels

50% sugar solutions

Soluble hot

Insoluble

10% salt solutions

Insoluble

Soluble hot

Gelation

Effect of cations

 

Strongest gels

With potassium

Strongest gels

With calcium

Gel texture

Firm, brittle

Soft, elastic

Syneresis

Yes

No

Hysteresis

10-20 C

5-10 C

Freeze-thaw stability

No

Yes

Synergy with locust

Bean gum

Yes

No

Synergy with konjac gum

Yes

No

Synergy with starch

No

Yes

Shear reversibility

No

Yes

Acid stability

Hydrolysis in solution, accelerated by heat;

gels are stable

Hydrolysis in solution, accelerated by heat;

gels are stable

Protein reactivity

Specific reaction

with kappa-casein

Strong protein interaction in acid
To enhance the texture and microstructure in gels, Iota and Kappa carrageenans are widely used in the food industry.
Kappa is a great option to thicken, water-binding, and gelling. However, Iota exhibits viscoelastic characteristics to create an ideal food system that is gelled.
The use of them in concrete preparation could result in a high compressive strength, flexural strength and impact toughness. Carrageenan is mostly used in dairy and meat products.
Buy Wholesale Carrageenan in Bulk? Place Carrageenan Bulk Order?
You might also be interested in these products
PLACE YOUR CARRAGEENAN BULK ORDER TODAY!