Your Premier Food Grade Agar Agar Supplier
Description of Agar Agar Food Grade
Agar is a natural high-molecular amylase extracted from gracilaria and gelidium which are both red algae.
As one of the three most extensively applied seaweed gels in the world, it is applied in the food, pharmaceutical, household chemical, and bioengineering sectors.
In the food sector, agar works as a gelatinizer, thickener, and stabilizer. It can react with some substances to become complexes and therefore is extensively applied in various types of beverages, jellies, ice creams, soft candies, canned foods, meat products, fruit jams, and dairy products.
In Japan, food grade agar (kanten) is deemed as the food with the highest content of dietary fibers and has been directly taken for 400+ years
Agar agar is a kind of hydrocolloid, available in powder or strip, insoluble in cold water, and soluble in hot water. Agar agar is white or off-white, odorless, or slightly odorous.
FDA has listed agar as a recognized safe product.  As a gelatinizer, agar is widely used in the food industry as a suspending agent, thickening agent, stabilizer, or clarificant.
Fruit chewy candy made from agar has a refreshing mouth-feel and higher transparency than normal chewy candy.
High gel strength, Agar is the strongest natural gelling agent known to exist.
A thermally reversible gel it is
Turning solid at 45 degrees Celsius
It stays unchanged or unaffected by other compositions during this process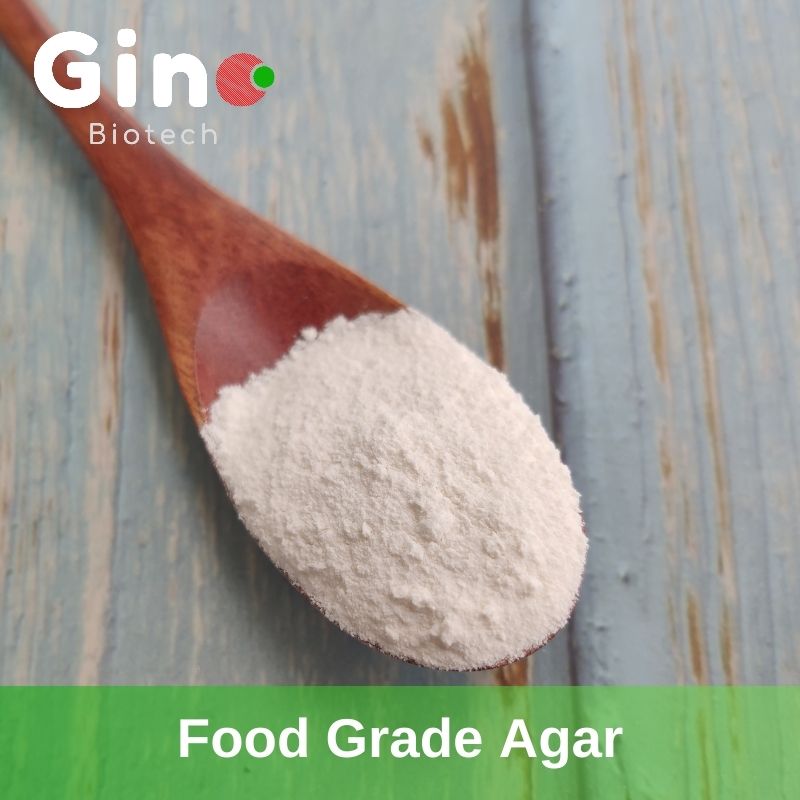 Able to withstand the temperatures required for sterilization
It melts at 60-100 degrees Celsius when it is mixed with H2O
It remains a stable gel at the incubation temperature
Agar is not digested by plant enzymes
As a 100% natural plant product, it is an ideal substitute for animal gelatin and has 6 times more gelling power than animal gelatin.
In addition, food grade agar has a very high satiating effect and contributes a high amount of natural fiber, making it ideal for low-calorie diets.
Agar is low in saturated fat and cholesterol and high in calcium, folate, iron, and vitamins amongst others. It is ideal for people interested in weight loss and maintaining good health.
Gelatin is cheaper. However, food grade agar is more cost-effective than animal gelatin because the food takes less time to set or "gel". Two grams of agar is equivalent to about six grams of gelatin.
| | | |
| --- | --- | --- |
| 1 | Appearance | Off-white to yellowish powder |
| 2 | Moisture (105℃ 4h), w/% | ≤ 12.0 |
| 3 | Total Ash (550℃ 4h), w/% | ≤ 5.0 |
| 4 | Gel Strength (1.5%,20℃, 4h), g/cm2 | ≥ 900 g/cm2 |
| 5 | pH | 4.0-8.0 |
| 6 | Starch Test | Pass |
| 7 | Gelatin Test | Pass |
| 8 | Acid-insoluble Ash, w/% | ≤ 0.5 |
| 9 | Water-insoluble Substance, w/% | ≤ 1.0 |
| 10 | Arsenic(As), mg/kg | ≤ 2.0 |
| 11 | Lead(Pb), mg/kg | ≤ 5.0 |
| 12 | Cadmium(Cd), mg/kg | ≤ 1.0 |
| 13 | Mercury(Hg), mg/kg | ≤ 1.0 |
| 14 | Total plate count, CFU/g | ≤ 5000 |
| 15 | E.Coli | Absent in 5 g |
| 16 | Salmonella | Absent in 5 g |
Packaging, Storage and Shelf Life
As a professional and responsible agar agar food grade supplier in China, Gino Biotech not only provides customized products but also flexible packaging solutions.  We will help you boost your business and make you stand out from the competition by offering you custom packaging. 
Store away from heat and moisture, preferably in a cool and dry place. The product, Food Grade Agar, when stored in these conditions and in its original unopened packaging, will maintain its initial properties for 24 months.
Food Grade Agar Applications
Agar applications in the food industry are based on their special characteristics and the most important applications are the following.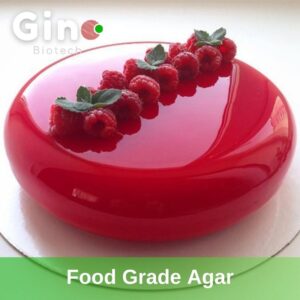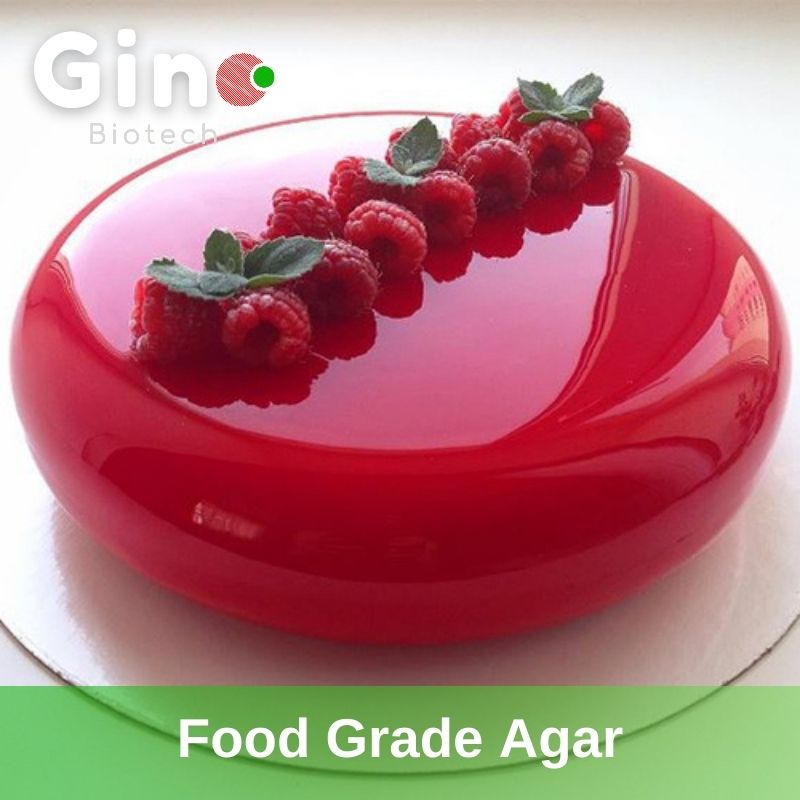 In confectionery, prepare jellies, marshmallows and candies or candy fillers.
In marmalade production, agar is used as a thickening and gelling agent.
Mitsumame production in Japan is very important; this is a fruit salad mixed with agar gel cubes, duly coloured, salted and flavoured with fruit flavour. The agar used for this kind of fruit salad must allow the cans to be sterilized without the cubes melting or losing their corners or edges. For this purpose, certain types of Gelidium agar are used.
In bakeries, agar is used to cover cakes, in icing doughnuts, and when it is applied to chocolate it allows a good adherence to the base without cracking. In general, agar is utilized to prevent dehydration of these confectionery products.
Agar is also important in fruit jelly preparations. When compared with pectin, agar has the advantage of not needing high sugar concentrations to form a gel.
Its application in yoghurt is also very important especially when consumers started to require fewer acid products and, therefore, casein cannot contribute to the maintenance of product consistency, as it previously did.
In the meat industry, and especially in the preparation of soft-boiled sausages, its use has permitted the reduction of fat content that acted before as bonding. Today the industry is trying to limit fat content in order to reduce cholesterol.
Agar is also used on a large scale in canned products like "scatola" meat (beef blocks in gelatine) - very popular in Italy, or chicken in gelatine - very common in Canada, cow tongue in gelatine -selling well in Denmark, lamb tongue in Australia, or other different types of meat and fish aspics. In dressings and extracts, it is used as a thickener and stabilizer.
In smaller quantities, agar is used to increase the viscosity of some alcoholic liquors.
Found Something Interesting?
EXPLORE YOUR RELIABLE FOOD GRADE AGAR SUPPLIER TODAY!​