Your Premier Bacteriological Agar Supplier
What is Bacteriological Agar?
Agar is a natural hydrocolloid extracted from several species of red algae, mainly the Gelidium, Gracilaria, and Pterocladia types.
Agar was first suggested for microbiological purposes in 1881 by Fannie Hesse. By the early 1900s, agar became the gelling agent of choice over gelatin because agar remains firm at growth temperature for many pathogens and agar is generally resistant to a breakdown by bacterial enzymes. The use of bacteriological agar in microbiological media significantly contributed to the advance of microbiology, paving the way to study pure cultures.
Gino Biotech Bacteriological Agar is made from selected gelidium and gracilaria, and used as coagulants in the microbial medium.
Bacteriological Agar | Table of Contents
Bacteriological Agar Properties
Agar is a gel at room temperature, remaining firm at temperatures as high as 65°C
Agar melts at approximately 85 - 91°C, a different temperature from solidification at 34 - 36°C. This property is known as hysteresis.
Agar is generally resistant to shear forces;
Great gelling power
Its great gelling power in an aqueous environment allows it to form gels which are more resistant (stronger) than those of any other gel-forming agent, assuming the use of equal concentrations.
Wide range of pH
It can be used over a wide range of pH, from 5 to 8, and in some cases beyond these limits. It withstands thermal treatments very well, even above 100°C which allows good sterilization.
No cations added
Agar gives gels without flavour and does not need the additions of cations with strong flavours (potassium or calcium), it can be used without problems to gel food products with soft flavours.
Thermoreversible gel
Its gel has excellent reversibility allowing it to be repeatedly gelled and melted without losing any of the original properties.
No reagents needed
The simple water solution has that gelling power. There is no need to add reagents to produce gelation, such as potassium (or proteins as is necessary with carrageenans), calcium (or other divalent cations as is necessary with alginates). High sugar concentrations or an acid environment (as is necessary with pectins) are not needed.
Gel Hysteresis
A 1.5% aqueous solution gels between 32°C-43°C and does not melt below 85°C. This is a unique property of agar, compared to other gelling agents.
Enhances flavours
It assimilates and enhances flavours of products mixed with it and acts as a fragrance-fixer permitting their long term fixation.
Transparent gels
Transparent gels that are easily coloured can be obtained whose refractive index can also be easily increased by adding sugar, glucose, glycerine, etc., given them an attractive brightness.
Bacteriological Agar Advantages
Bacteriological Agar includes good clarity, controlled gelation temperature, controlled melting temperature, good diffusion characteristics, absence of toxic bacterial inhibitors, and the relative absence of metabolically useful minerals and compounds.
Bacteriological Agar is recommended for clinical applications, auxotrophic studies, bacterial and yeast transformation studies, and bacterial molecular genetics applications.
CHEMICAL CHARACTERISTICS

Appearance

Off-white to yellowish powder

Moisture

≤ 12 ﹪

Total Ash

≤ 5 ﹪

Gel-strength (Nikkan Method)

700-1200 g/cm2

pH

4 - 8

Mesh size

80 - 100

Starch & Dextrin

Not detectable

Gelatin and other proteins

Not detectable

Water insoluble matter

≤ 1 ﹪

Acid insoluble matter

≤ 0.5 ﹪

Pb

≤ 5 ppm

As

≤ 2 ppm

Cd

≤ 1 ppm

Hg

≤ 1 ppm

MICROBIOLOGICAL TEST

Total plate count

≤ 5000 cfu/g

Yeast & Mold

≤ 300 cfu/g

E.Coli

Absent in 5 g

Salmonella

Absent in 5 g
Packaging, Storage and Shelf Life
As a professional and responsible bacteriological agar powder supplier in China, Gino Biotech not only provides customized products but also flexible packaging solutions.  We will help you boost your business and make you stand out from the competition by offering you custom packaging. 
Store away from heat and moisture, preferably in a cool and dry place. The product, Bacteriological Agar, when stored in these conditions and in its original unopened packaging, will maintain its initial properties for 24 months.
Bacteriological Agar Applications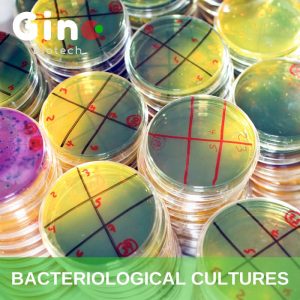 Bacteriological Agar is recommended for clinical applications, auxotrophic studies, bacterial and yeast transformation studies, and bacterial molecular genetics applications.
This product is a gelling agent used in the preparation of culture media for microbial growth and other bacteriological applications, it is used for different microbiological applications, being the basic ingredient in the preparation of plaque diagnostic culture media.
Culture media and other bacteriological applications, Plant tissue culture, Dental mold, Pharmaceutical preparations.
Suggested Use Level | Guidelines for Use
It is used in culture media in the following concentrations:
For Routine Media:1.4 % - 1.6 % ,
For Soft Media: 0.5 %,
For Semi-solid Media: 0.15 %,
For Media with Reduced Oxygen Tension: 0.05 % - 0.1 %,
For Extra Hard Gels, for inhibiting swarming of Proteus species: 2.5 % - 3.0 %
Others You May be Interested in Bacteriological Agar
The use of agar in bacteriology is one of the most important uses, requiring strict physicochemical control, as well as the absence of hemolytic substances and, more importantly, difficultly, the absence of any bacterial inhibitors. The use of agar to gel culture broths started in 1881 by Robert Koch in the preparation of solid media, the first introduction of this oriental product into Europe. Its use in microbiology was based on its specific properties: gelling temperature 32-36°C, melting temperature 85-86°C, not hydrolyzed by bacterial exoenzymes, and can be prepared without the use of bacterial inhibitors. The above temperatures refer to the medium gelled with agar, containing 10-11 g of agar per liter of medium.
Bacteriological Agar is prepared from Gelidium and Pterocladia because Gracilaria and Gelidiella can obtain agar with a gelation temperature higher than 41°C. It is produced in a limited number of highly specialized plants and is subject to strict physicochemical and bacteriological controls. There are no norms universally applied to bacteriological agars because different microbiological schools evaluate parameters in different ways. Neither international nor national norms exist. There are many differences in physicochemical and bacteriological controls between food grade and bacteriological grade, but this information is confidential and only shared by the bacteriological agar and medium manufacturers.
Since agar is used only as a gelling agent in solid media, it must avoid interaction with the remaining components of the medium such as meat extract, peptone, proteins, amino acids, sugars, and other carbohydrates, as well as the colors, indicators, inhibitors, mineral salts, etc. used in its formulation. It must be mixed with these ingredients without problems such as color change, precipitate formation, or loss of gel strength even after autoclaving.
Therefore the actual specifications vary from user to user and from medium to medium manufacturer. In general, bacteriological agars are very clear agars in both solution and gel form, and they represent the purest quality available on the world market. The rest of the parameters vary according to the individual needs of the manufacturer and the end user.
Another type of agar, called "purified agar", is available in much smaller quantities and at a much higher price. These agars are bacteriological agars that can also be used for electrophoresis or immunodiffusion in biochemistry; they can be considered pioneers of agarose and are still used for economic reasons.
Found Something Interesting?
EXPLORE YOUR RELIABLE BACTERIOLOGICAL AGAR SUPPLIER TODAY!​